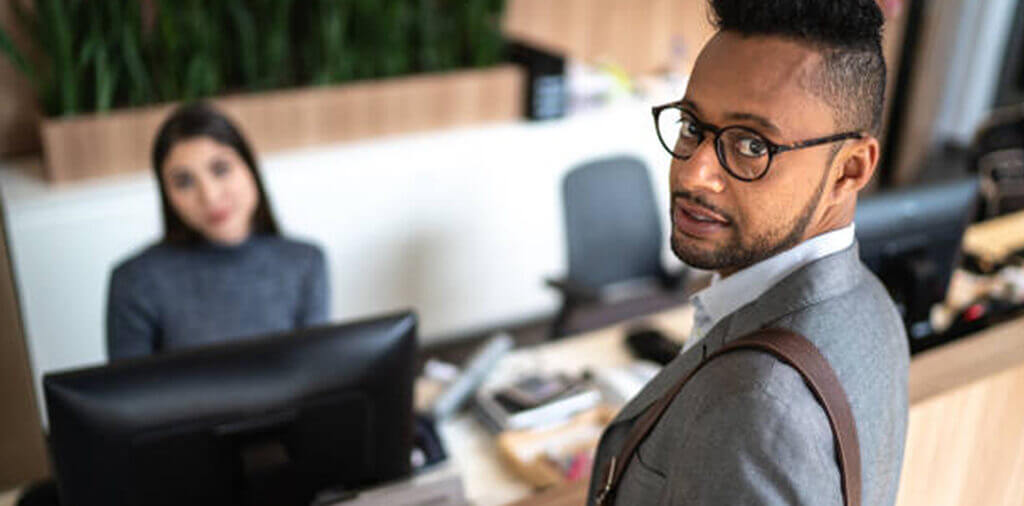 Visitor Management in India has always been a manual task. The usual calling the reception to seek an appointment and then the weary wait to meet the host has delayed many essential assignments leading to business loss. Even for reception staff, the logistics of running an intricate visitor management system have been difficult and time-consuming. However, automated technology makes the visitor management system a smooth, hassle-free process for both the host and the visitor. Visitor Management System is a smart technology that monitors visitors' IN and OUT movements. The system also helps organizations develop a systematic approach for keeping a record of visitors, their purpose of visit, and what they had to offer to the Organization. You can read in detail about this system in our blog here Visitor Management System (rshris.com)
Visitor reaches the Gate. His details along with a Photo which is taken right there are entered in the Web based Application. This can be done using a tablet also.
An auto-email is triggered to the concerned Host. If approved, a notification comes to the Reception. Alternately, a pre-fixed appointment intimation by email is already with the Reception.
A Visitor Slip with his Photo is printed and handed over. You can restrict his entry to the relevant area by using RFID Access Cards.
Visitor Management System| The purpose of this new age software is to attain safety and security to its full potential
Automated technology is captivating the market. It is being widely adopted in various sectors of public life; visitor management is one such area where the use of automated technology is showing remarkable results. Both gated communities and offices are utilizing visitor management systems to enhance their visitor experience all while assuring upgraded security surveillance with reduced manpower.
What is Visitor Management System?
Visitor Management System is an automated surveillance system that monitors visitors' IN and OUT movements. VMS can give administrators an accurate count of who's in the building at any given time along with detailed reports of visitors' data in real-time. Thus, bringing a more structured approach to the entire visitor management system at any given workplace or any other public entertainment space like theatres, amusement parks, hotels, and many others.
Visitor Management System plays an important role in organizations developing a systematic approach for keeping a record of visitors, their purpose of visit, and what they had to offer to the Organization. However, just keeping the record of visitors may not be enough, unless such data can be analyzed for providing insight into the results or outcomes of such visits made to your Organization by the Public or Stakeholders.
The three main reasons why you should use the Visitor Management System:
Allow only those Visitors who have permission to enter the premises. And do this with a lesser number of Staff doing the Visitor Screening at the Gate!
Digitized data of the Visitors can be analyzed to give you Reports to make quick decisions and trigger alerts when the need arises.
Keep your premises safe and secure by online Surveillance 24×7. Restrict Visitor movement to only those areas they have access to; get Alerts if someone has overstayed. VMS software comes in handy in times of disaster as it can digitally track how many people are in the building or in case of any unfortunate crime incidents.
Role of Visitor Management System in Offices
A visitor management system is a time-saving process and offers multiple other benefits to the Organization. Let's take a look at some of these benefits: The first benefit of automated visitors' systems is that they make it easy for offices to manage their guests effectively and efficiently, unlike traditional approaches that use calls and emails to drive visitors daily. We list you the three best reasons why VMS helps offices get productive:
Time-Saving: 'Time is Money' With businesses always running short on time, the visitor management system offers an efficient and effective way to communicate with visitors, prospective clients, and partners. VMS can make visitors move through the process more efficiently and have a high volume of visitors without having someone constantly watching their every step, which is invaluable if you have an office hybridized. A visitor management tool allows for online access to important legal documents with the click of a button, as well as insights about how long your guests are present in your building on any given day. It also gives you essential analytics about what types of people enter your office and when they come, giving you valuable information to improve processes inside it continuously. 
Manage Data: A visitor logbook is a traditional way of collecting data about visitors. But it is also unsafe because the information in that book can be easily accessed by anyone and used for nefarious purposes. With an automated VMS system, your guests get high-value security. All their personal information like email addresses or phone numbers won't be accessible to others who walk into the reception area. The system will then automatically store their details securely on file, so they're always there when needed and only visible to those authorized to view them. 
Office Security: Adding VMS to your office should reduce your security budget. The digital visitor management process swiftly integrates with gate access, ensuring that the office is accessible to authorized visitors only. In addition, you will be able to print badges that serve as visual identification for your employees and visitors, so no one has any doubt about who is allowed in the office. This system can also deter unwanted people from trying to enter, further reducing the risk of unwelcome guests; not only does it show a sense of security, but it's easy enough for anyone on staff to comply.
How does VMS work in offices?
Installing a visitor management system in the office digitizes the entire visitor visit. 
On-the-spot Visitor Management Process: 
Step 1: Visitor comes to the reception, fill in the digital form, complete the OTP verification steps.
Step 2: The system stores details of the visitor
Step 3: The visitor picture gets clicked, and VMS generates the visitor's pass
Step 4: VMS notifies the host about the meeting
Step 5: Meeting
Step 6: At the check-out visitor returns the pass
Pre-planned Visitor Management System
Step 1: Visitors registers themselves in a web-based visitor management portal
Step 2: Fill in the meeting detail application form
Step 3: Form go to HOD for permission 
Step 4: VMS notifies reception on approval of the meeting
On Meeting Day
Step 1: Visitor comes to the reception, VMS clicks their picture and generates visitor's pass
Step 2: A mail and SMS is sent to the host notifying the visitor has arrived 
Step 3: Meeting
Step 4: At check-out visitor returns the pass to the reception
Visitor management software is a successful tool that helps modern workplaces streamline their daily meetings efficiently and effectively. Not only does it create a streamlined, enjoyable experience for visitors, but it also helps keep everyone safe by managing personal data and makes processes more efficient for your team.
Sanjive Mehta is the Director at RS Barcoders Pvt.Ltd. An IIT-Delhi alumnus, he has over 39 years of work experience in computerization and automating processes. Under his guidance, his team has helped the Company receive many Innovation Awards.