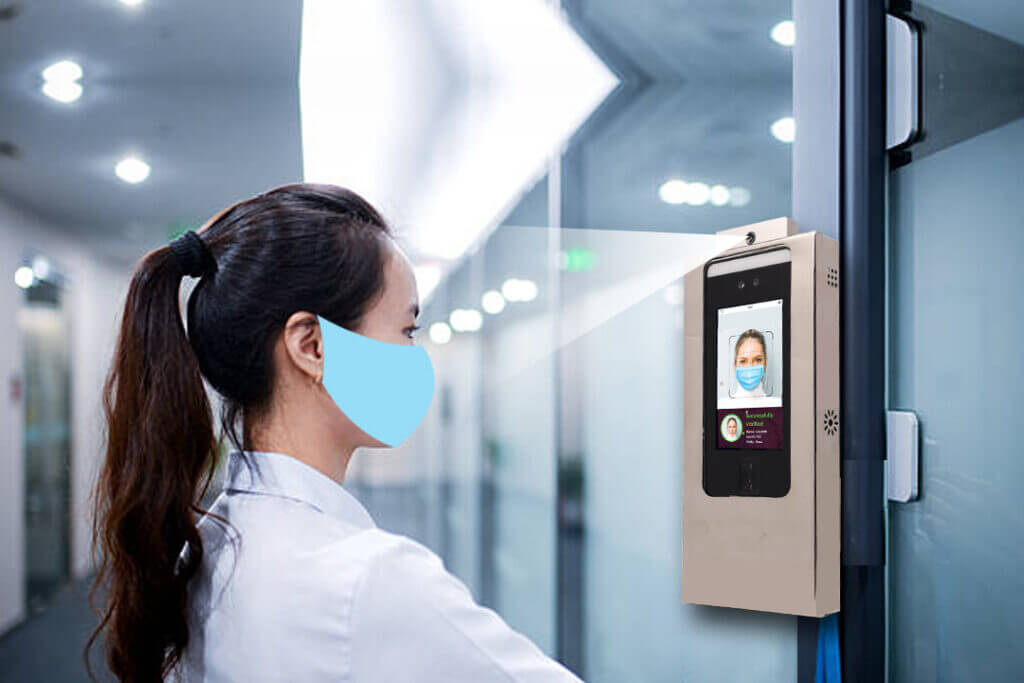 India has witnessed wave after wave of the coronavirus. These waves are a common concern for office workers trying to lead everyday day-to-day lives while ensuring their safety at work.
So, is lockdown a solution?
Indeed, not all workforce is suited for remote working!
They need to walk IN and OUT of the workplace every day without any concern about their health being at risk.
As per the Centre for Disease Control and Prevention reports, viruses can take at least a few hours or days to die, depending on how much exposure they get. Therefore, a regular cleaning with soap and water is recommended for any surface to kill the virus. 
Though, viruses on electronic equipment like buttons in an elevator, electrical switches, or circuits take longer to disappear even after frequent sanitization. Therefore, adaptation to a contactless system is a must to minimize disease spreading between surfaces!
Thanks to advance biometric features like Contactless technology, employers can now assure the health safety of employees without any manual strain on the organization. 
Here are 7-ways by which Contactless Attendance System can help employers safeguard workplace from Third Wave
Contactless Attendance: Touching surfaces is the breeding ground for the virus. The contactless Attendance system thoroughly scrapes any contact required for employee attendance or tracking. In addition, face Recognition Attendance Systems make it so that transcribing attendance records will be done transparently and efficiently, ticking all the Covid guidelines.
Thermal Screening and Face Mask Detection: In this post-pandemic world, it is necessary to have additional safety precautions when capturing attendance. The mandatory wearing of masks and accurate body temperature is a necessity. Contactless Attendance System solves the problem with an added feature of automated face mask detection and thermal screening without any manual loophole in place for this system. RSHRIS Suraksha Kwacha is one such biometric solution that ticks the above boxes. 
Vaccination Data: Since biometric attendance has already leaped Facial Recognition software, its usage is just not limited to attendance capturing. This cloud-based attendance system, like RSHRIS Suraksha Kawach comes with features like access to employees' vaccination data for a transparent workplace system. As we all know, vaccination is the key to safeguarding from viruses. Therefore, it becomes crucial for organizations to ensure vaccinated staff and a transparent system to track that data. 
Real-Time Report: The Contactless Attendance System is an upgraded attendance management system for a more innovative workforce. This advanced system provides real-time reports of hours worked with exact numbers, and the task performed so managers can identify their team's location in real-time. These features increase employee productivity and provide a transparent attendance system.
Highly Accurate: The automated technology of the Contactless Attendance System makes it highly accurate, eliminating manual errors that come across in manual attendance or traditional fingerprint scanning attendance machine. The features of automated face mask detection and thermal scanning make it highly accurate in ensuring Covid-appropriate behavior complying with local regulations. 
Transparent: The real-time attendance report is available at the click of a button. Accessible to managers and employees brings a transparent and coherent system within the organization. The additional feature of face mask detection and thermal scanning data makes it even more valuable to track and trace data spread amid any wave that may arise. 
Increase in Productivity: Now, this may not come across as a direct benefit of the Contactless Attendance System. However, the infusion of innovative technology in this comprehensive attendance management system does increase employee productivity as a by-product.
Going contactless for the attendance process is sensible, considering the pandemic madness has been engulfing us for two years now. The system fully answers all those worries around employee health safety while keeping their attendance data in check. 
Sanjive Mehta is the director at RS Barcoders Pvt. Ltd., a multiple award-winning HRIS & Automated Technology company. He is an IIT Delhi Alumni and Pioneer in providing Biometrics solutions in India.