Canteen Management system is basically a software with which one can easily manage the attendance of the employees, consumption of food, provide menus to the consumers and help make the whole experience smoother and efficient. Be it schools, colleges or offices, canteens are a necessity but sometimes managing them could be an issue. However, not anymore, with RSHRIS Canteen Management System one can keep a track for efficiency and could be used for easy maintenance of the canteen as well.
Canteen Management system has had an impact on the traditional method and the various benefits have also been highlighted like with saving time, canteen management system is cost effective too. Sitting at a particular location, one could manage staff located at different locations. The process becomes more transparent for the employer and easier for the consumer. RSHRIS Canteen Management System makes sure that the transactions and payments are swift and secure. Moreover, with additional biometric device the generation of reports related to attendance of the employees and working hours becomes evident.
Another benefit of Canteen Management System is that the consumers could easily pay through pre-paid or post paid cards. The cashless transaction makes the process even more transparent and hence leaves no room for error. In addition, the consumers would not have to worry about carrying cash all the time making it hassle free.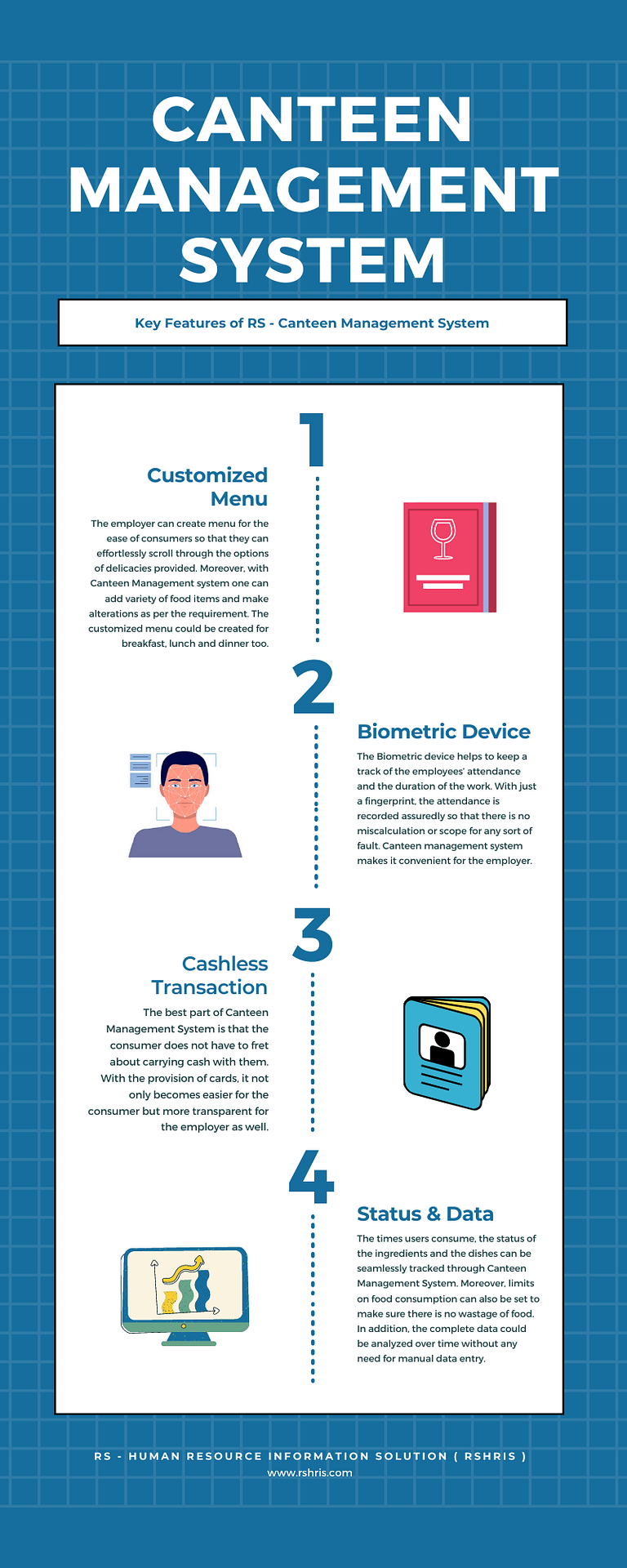 KEY FEATURES OF CANTEEN MANAGEMENT
1) CUSTOMIZED MENU
The employer can create menu for the ease of consumers so that they can effortlessly scroll through the options of delicacies provided. Moreover, with Canteen Management system one can add variety of food items and make alterations as per the requirement. The customized menu could be created for breakfast, lunch and dinner too.
2) BIOMETRIC DEVICE
The Biometric device helps to keep a track of the employees' attendance and the duration of the work. With just a fingerprint, the attendance is recorded assuredly so that there is no miscalculation or scope for any sort of fault. Canteen management system makes it convenient for the employer.
3) CASHLESS TRANSACTION
The best part of Canteen Management System is that the consumer does not have to fret about carrying cash with them. With the provision of cards, it not only becomes easier for the consumer but more transparent for the employer as well.
4) STATUS AND DATA
The times users consume, the status of the ingredients and the dishes can be seamlessly tracked through Canteen Management System. Moreover, limits on food consumption can also be set to make sure there is no wastage of food. In addition, the complete data could be analyzed over time without any need for manual data entry.
So, with Canteen Management System make the experience of managing canteen and cafeteria hassle free, transparent and smooth.

Sanjive Mehta is the director at RS Barcoders Pvt. Ltd., a multiple award-winning HRIS & Automated Technology company. He is an IIT Delhi Alumni and Pioneer in providing Biometrics solutions in India.