HRIS Definition
HRIS (Human Resource Information System) is a computerized application that manages all the company's personnel and payroll-related data. HRIS will include core functionality for managing employee records, implementing company policies, manage recruitment and separation, help in scheduling of company roster, maintaining salary slips, as well as leave policies, and other HR-related data.
Various companies offer HRIS software as per the requirement of the client. RS-HRIS is also a HRIS software with USER EASE OF USE better than any other.
What is unique about RS- Human Resource Information System?
HRIS is often an integral part of Enterprise Resource Planning (ERP) systems. Human Resource Information System is commonly used in various industries specifically in manufacturing and service industries. 
The goal of HRIS is to help managers, executives, and human resources professionals make informed decisions about their employees on a day-to-day task. 
HRIS systems are designed to be user friendly and intelligent in features. HRIS systems once installed are easy to use and provided for basic reporting features. They can streamline the operations of an organization by automating complex processes like human resource administration.
RS-HRIS helps minimize the manual errors. The Attendance machine are PUSH technology based i.e., the device pushes the data on-line to the computer, the software processes the data instantaneously as soon as it arrives and the attendance reports are updated in real time.
RSHRIS has a Field Force Tracking (FFT) solution to manage your field staff. FFT- helps managers track the employees in the field – Sales executives, Service Engineers, Delivery Boys, Field Supervisors, Security Guards, Patient Care Givers, etc. FFT helps managers even assign tasks and get real-time location updates.
An RS-HRIS may be customized to meet the needs of your organization. You might want a system that tracks hours worked differently or different formula of working hours to be applicable to different departments. Whatever your requirement this guide will show you how RS-HRIS works and help you find the perfect option for your company.
Objective of Human Resource Information System
The sole objective of getting an automated, cloud based Human Resource Information System is to bring efficiency in organizations operational tasks.
Human Resources Information Systems along with an automated attendance capturing systems helps to optimise the human resource activities of an organization and increase overall productivity.
These tools usually come with a Free Demos. The demos provide organizations with a chance to learn about the features of the system or systems and create a list of what the systems are capable of doing for the company.
RSHRIS allows demos of all their Solutions.
What are the various HRIS Functions?
HRIS is a huge umbrella that covers a wide range of day-to-day employee activities. This includes Organisation Chart creation, Recruitment, On-
Boarding, Organisational Policies, Attendance , Punctuality, Training, Leave , Tour, Weekly off, Holidays, Shifts, Roster, IN/OUT movement, Field Staff Geo- location tagging, Paydays at end of the month, payroll calculation, PF, ESI, TDS, Bank Statement, Statutory Compliances, etc. Organizations can choose single to multiple HRIS tools as per their requirements. 
Organisation Chart: Basis of all organisations is an organisation chart which defines the various positions in the organisations and their hierarchy, include filled positions and the vacant ones. Based on this the jobs are advertised.
Recruitment: Based on the advertised jobs candidates apply and are called for various levels of interviews and selected.
On-Boarding: The selected candidates are taken through a process where their certificates and other papers are scrutinised and scanned copies are stored in RS-HRIS for future reference. All their other personal data like date of birth, address, father's name, bank account, etc. are captured.
Organisational Policies: All organisations have specific policies defined for themselves like Weekly off days, Shifts, Grade wise policies, Type of Leaves and leave policy, Relaxation in IN and OUT time, Number of late comings allowed in a month, Half day leave, Punctuality rules, etc. Parameters are set for all these policies in RS-HRIS in the beginning.
Attendance: The bed rock on which RS-HRIS stands is the Online Automatic Capture of Attendance, Automatic processing and generation of reports and Automatic distribution of relevant reports through emails and SMS to all stake holders. All this happens in real time. Management gets to see the attendance of the employees instantaneously as soon as they report for work on their Mobile Phones/ Laptops/ Computers from where ever they are – homes/ on tour/ on holiday/ etc. A large number of Attendance reports Daily, Periodic, Monthly – Present, Late coming, Early going, Hours worked, Overtime, Muster roll, Absenteeism, IN-OUT movement, etc. are available online.
Shifts and Roster: Unlimited shifts can be defined in RS-HRIS. Each shift's start and end time, relaxations allowed, break shift, lunch breaks, shift starts on day one and ends in day two, etc. are defined one time. Roster making for of all the employees can be made centrally or distributed to the various HODs. Auto- shifts is possible if separate IN and OUT machines are defined. Flexi-shift can also be defined for organisation wanting it.
Training: RS-HRIS can keep track of the trainings imparted to employees. Trainer wise, Training wise and employee wise reports are available
Leaves: Unlimited types of leaves can be defined in RS-HRIS. Various leave rules like number of leaves allowed in a month/ year; accumulation allowed or not; grouping of various types of leaves allowed or not; etc. Employees can apply for leaves themselves, it can be approved by multiple levels.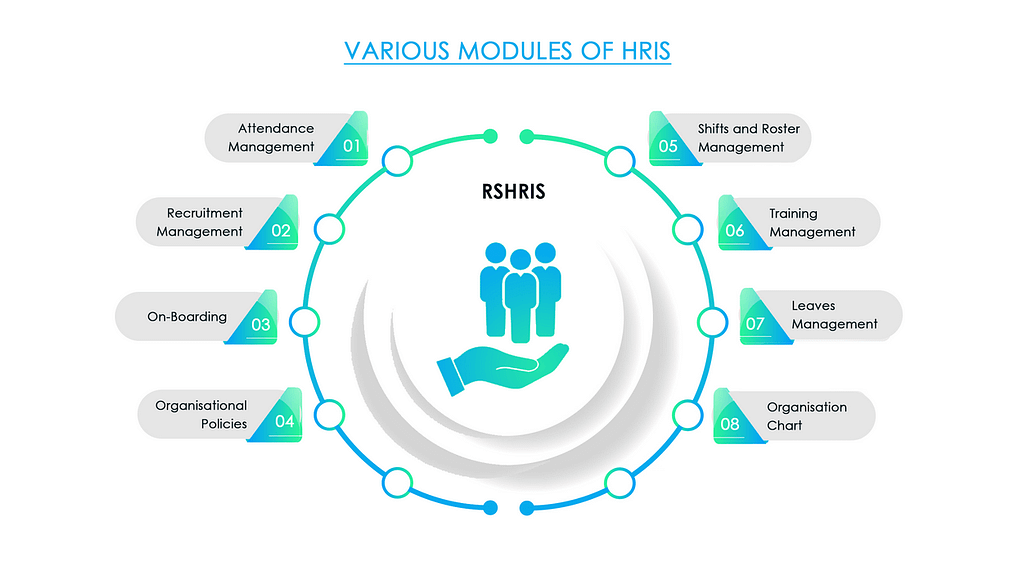 Solutions offered by HRIS
Field Force Management Solution: enables Geo-tagged attendance capturing of the Field Staff coupled with intelligent Task Management empowering the manager to monitor Field Staff efficiency at each step online.
Paydays at end of the month: The main purpose of RS-HRIS apart from increasing productivity is to provide accurate and authentic paydays at end of the month to ensure timely distribution of salary.
Payroll Management System: Human Resource Information System automates the attendance and the payroll processing making it fast, accurate
and flawless. Apart from payroll calculation, it also provides PF, ESI, TDS, Bank Statement, Statutory Compliances, etc.
Canteen Management: Organisations provide subsidised food to its employees. To ensure that there is no pilferage and food subsidy is properly
utilised the canteen facilities are linked to the Attendance in RS-HRIS.
Visitor Management System: Visitors pose a serious threat to the security of an organisation. Random people can enter to meet employees who might not be even present. Visitor Management System first checks the present status before allowing visitors to enter the premises. It also monitors the time spent by the visitors inside, frequent visitors, Entry and Exit of visitors is monitored to ensure that no visitor (with bad intentions) stays inside after the office hours. 
Web-based Fixed Asset Management System: Company owned assets are issued to employees for their use. To keep track of such assets is very difficult especially with today's Attrition. RS-FAMS helps organizations track their Fixed Assets with barcodes/ RFID technology.
RS Barcoders for the past 25 years has been leading the industry with its advanced technology and responsive customer service, attracting some of the best companies on board as clients for RS Barcoders.
All of these Solutions are available from RS Barcoders with unique features from the rest of the market. Check out rshris.com for more information.
Benefits of HRIS
A well-used HRIS system can be a boon for both employers and employees. A Centralized Attendance System, for instance, can help erase human error and offer automated attendance across multiple locations. 
Employee Data Management: Human Resource Information System provides a digital database of employee data, which can be used to analyse performance, payroll and other' organizational mandates.
Compliance: Web-based attendance and management tools help managers check on their employees' compliance with company policies, bringing a more regulated workplace.
Reports & Analysis: Reporting and analytics are a much rarer module in HRIS systems. But, thanks to modern HRIS systems they create automated HR reports on various topics – like employee turnover, absence, and performance. These analyses thus help managers and leaders to make informed decisions about their employees.
Upgrading your HRIS systems is the need of the hour. This will ensure 100% employee productivity and efficiency through a more modern, streamlined system. Look for the best match of your HRIS systems with RS-HRIS Solution.

Sanjive Mehta is the director at RS Barcoders Pvt. Ltd., a multiple award-winning HRIS & Automated Technology company. He is an IIT Delhi Alumni and Pioneer in providing Biometrics solutions in India.